Membership
Providing opportunities for people of all ages, backgrounds, and qualifications to make a difference in one of Ontario's most vital services.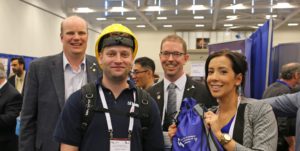 Become A Member
Facilitate lifelong learning and network with the industry's top minds
Address and impact industry and environmental policy at the provincial government level
Attend conferences, workshops and seminars for professional development, environmental awareness, and industry networking
Participate in operator challenges, competitions, outings and conferences to improve skills and make networking fun
Access the most up-to-date news and information in the industry
Become a mentor or access mentorship services
WEF + WEAO
Become a member of the Water Environment Association of Ontario (WEAO) by joining our parent association, the Water Environment Federation (WEF). Visit their website for information on:
Professional Member
Young Professional Member
Student Member
Professional Wastewater Operator Member
All WEF memberships include a WEAO membership.
WEAO

Or become a member of only the Water Environment Association of Ontario (WEAO):
Join for $120 CDN per year + HST